From The Shelf #2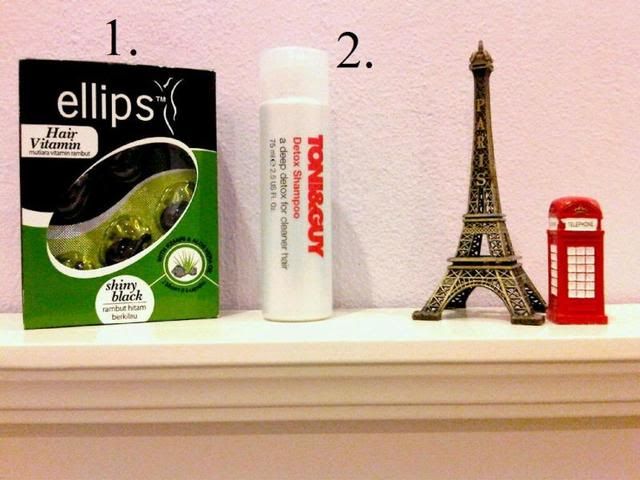 Let's talk about detox today. Just like the body, our hair do need detox every now and then so that it will stay clean and healthy. Some people detox their hair once or twice a week. I try to detox it twice a week. Detoxing sounds a bit difficult but its actually simple. All you need to do is buy a detox shampoo and you're good to go. Some French women even clean their hair with Evian at least once a week which can be a bit ridiculous for us since Evian can cost a lot, unlike Sea Masters, if you know what I mean. Lol. But what the French girls do, we want to do it too ;)
Item 2: Toni & Guy mini Detox Shampoo (RM 8+)
So what is a detox shampoo? Its just a simple shampoo. But it cleans your hair til the roots and it leaves no residues behind. We can get residues due to other shampoos that we used, hair spray and any other kind of chemicals that we put onto our hair. So leaving behind residues will cause build-up that will end up making our hair dull and oily- especially at the center part. Just with one time of using this detox shampoo, I can feel the difference and my hair feels super clean. Once again, Watson offers mini bottles for a lot of the shampoos they are selling. Therefore, you can try it first and not waste your money on a huge bottle in case if you don't like it. For me this is the best detox shampoo that I've tried and I already bought the 2nd bottle. Since you using it twice a week, you don't need the huge bottle anyways.
Item 1: Ellips Hair Vitamin for Shiny Black Hair (RM8+)
After using the Toni & Guy Detox Shampoo, I'll apply this hair vitamin on my damp hair. It comes in capsules form and I usually use 1 capsule at one time. The texture of this hair vitamin is very thick, sticky and a bit oily so do not apply on your scalp or anything, just concentrate on the center part of your hair til the tip. It will absorb quite fast, once your hair is fully dry (naturally, no hair dryer). I love it coz it gives my hair the shine and maintain my original black hair colour. But they do have other choices for other types of hair such as normal, coloured and damaged. I usually use this twice a week, every time I detox my hair.