From the shelf #1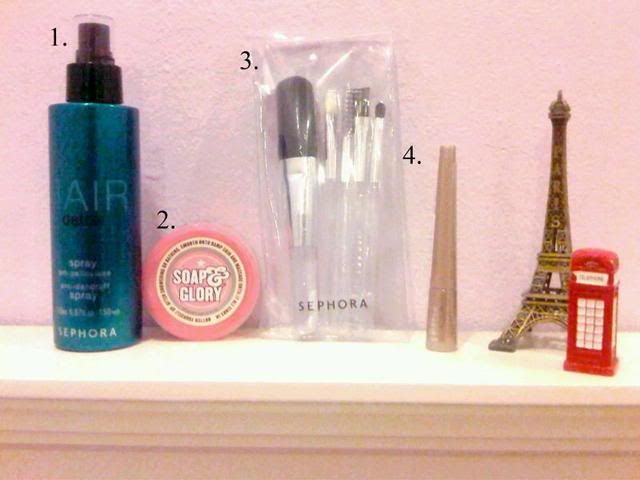 This will be my first time posting about beauty products and I hope it will continue in the future. So, you dolls let me know if you like it! :) I bought few items from Sephora and Elianto yesterday and I 'll give my review for eac

h items below.
1st item: Sephora Hair Detox Spray (RM 49)
I've been into all this detox plan for my hair lately coz it makes my hair soft and super clean. I do have a detox shampoo but I'll write about it later. For now lets talk about this detox spray. I used it twice already for now and I love it. I have a sensitive scalp and this mite be my answer to less oily and a healthier scalp.Its easy to apply, just spray it to your damp scalp after shampoo. And it would leave this fresh minty feel on your scalp. So if you have issues with your scalp too, I'll suggest you this. Coz I know scalp treatment at salons cost big bucks- hard to maintain.
2nd item: Soap & Glory Shea Butter, mini tub (RM 17)
A MUST BUY! I'm so hooked with this butter. I think I'm gonna buy the huge tub very soon. It sinks to your skin like silk and it smells so nice. The smell of this butter leaves in your skin like forever (I'm serious) and it moisturize very well, almost like a life saver for dry skin. The scent of it reminds me very much of Dior Cherie. I like the idea when beauty products are made in mini sizes coz it allows you to try it first and of course so easy to travel with. Plus, you can always re-fill this mini tub with more butter once you buy the huge tub- genius!
3rd item: Sephora Mini Travel Brush Set (RM 39)
Again I don't like to bring huge-ass brushes around. So this goes perfectly in my make-up bag. The set consists of 5 brushes all together- a blusher brush, an eyebrow brush and 3 eye-shadow brushes in different shapes.
4th item: Elianto Liquid Eyeliner in Dark Brown (RM22)
This is my 3rd time buying Elianto eyeliner. It goes without saying, definitely my all time fav liquid eyeliner. It stays on for hours and so easy to take it off. I love the tip brush coz its thick and easy to apply and the dark brown colour blends very well with our Asian skin. With that price its a stealer!